The Aeonian '17 takes place at the WTC Mumbai on 9th and 10th November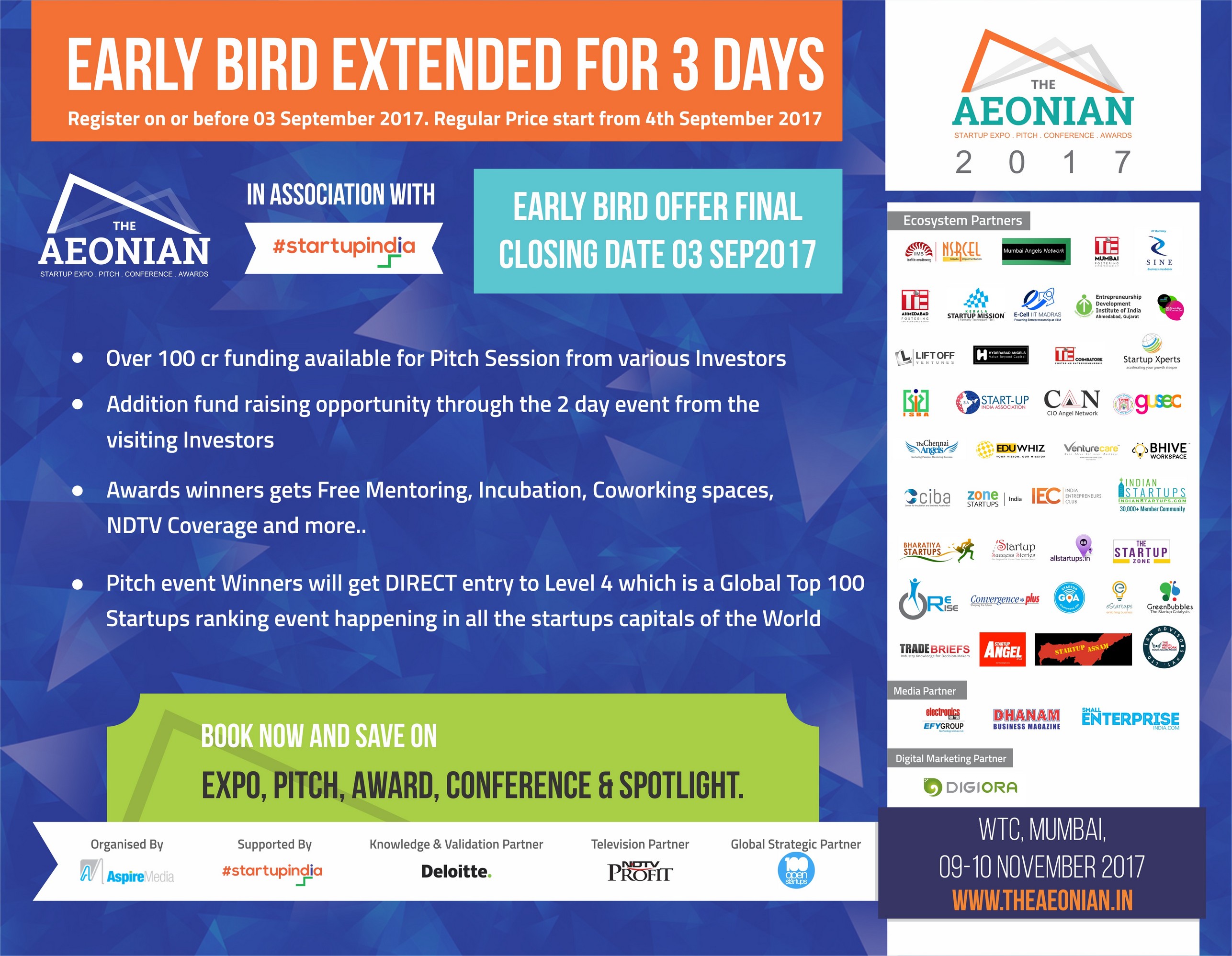 The Aeonian 2017, a startup expo, organised by Aspire Media in association with Startup India and their multiple other partners will take place on the 9th and 10th of November at the World Trade Centre (WTC), in Mumbai.
With over 100 Cr funding up for grabs from various investors through Pitch Sessions, the Aeonian is set to be the talk of the town. Open on a national scale to startups, Aspire Media extended the early bird registration date to the 3rd of September due to large response.  Regular registration is on till the 30th of September with a 'last minute' entry from the 1st to the 15th of October.
The Pitch event winners will get Direct entry to 'Level 4', the Global Top 100 Startups ranking that takes place in all startup capitals of the world. There is also additional fundraising opportunities through the two day events from visiting investors.
The Aeonian will also assist Startups to network out and get recognition for their work and strengthen their brand image. Any founder, entrepreneur can nominate their startup under any of the categories and they can also nominate their startups under more than one category.
The scoring will take place in one round of pre-selection and a final selection consisting of a jury made up of CEO's, eminent industry stalwarts, venture capitalists, etc to shortlist and the winners based on presentations and other parameters they deem fit.
Don't miss out on the chance to register. Award winners receive;
Free Incubation

Funding

Brand Boosting

Mentoring

NDTV Coverage

Coworking Spaces and more.
Date: 9th-10th November 2017
Venue: World Trade Centre, Mumbai
For further details visit www.theaeonian.com.