Ontario, Canada – Your Next Big Idea, Seminar at Taj Vivanta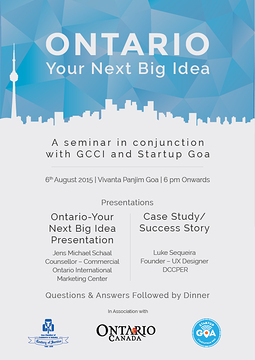 Ontario, Your Next Big Idea is a seminar by the Ontario International Marketing Committee, scheduled to be held on the 6th of August, at Taj Vivanta in Panjim. The event is held in association with the Goa Chamber of Commerce and Industry and Startup Goa.
The seminar is aimed at established and growing IT, mining, F&B and other Goan companies, looking to expand their base to international markets. Ontario, Canada offers an excellent base with access to New York, Boston, Montreal, Chicago and their consumer markets, at a lower cost base than that in the United States.
Presentations will be made by Mr. Jens Michael Schaal, Counsellor of Ontario IIMC on the opportunity and corporate and governmental environment in Ontario. Mr Jamshed Mistry, will also be present and will shed light on the legal aspects of doing business in Canada while a final presentation will be made by Luke Sequeira,  founder DCCPER, which has successfully entered and penetrated the Canadian, US and UK markets, through it's headquarters in Toronto.
The presentations will be followed by dinner and a Q&A session with the speakers, open to questions from the audience.
This event is limited to 60 attendees from qualifying companies. Members of the Chamber or Startup Goa, may contact their organization to request an invite.
August 6th.
6pm to 9pm.
Taj Vivanta, Panaji.