Events Galore at Technival 2016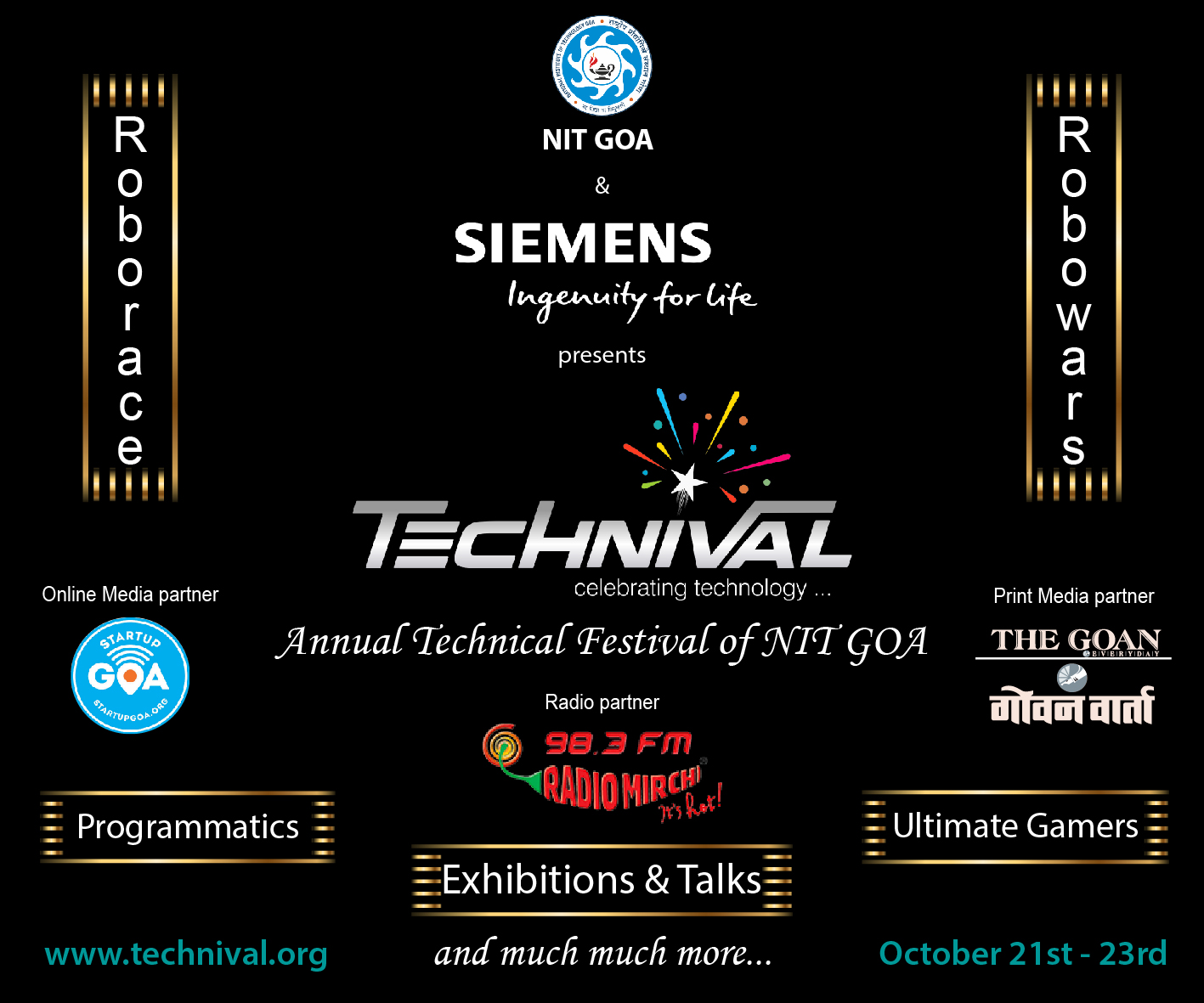 Technival 2016 by NIT-Goa is set to kickstart with a grand ceremony on the 21st October along with a blowout of various events from the 22nd to the 23rd of October. Technival will also comprise of guest lectures and exhibitions that can be availed by participants and the public alike.
There will be 24 events divided into 7 domains with prizes worth Rs. 2,30,000 up for grabs. If you are a participant, you should be all set for some good spirited competition throughout the event.
The event details are as follows;
Vengeance

– A Robowars event, where two robots fight against each other. Prizes worth: Rs 45,000/-

Labyrinthos

– The robot needs to follow the line the fastest with the least penalties incurred. Prizes worth: Rs 14,000/-

Roborace

– The fastest robot to complete the obstacle course. Prizes worth: Rs 18,000/-
Hackathon

– A 24hr event where contestants are given problems and need to come up with unique solutions. Prizes worth: Rs 18,000/-

ProgramMatics

– Programming event to test the design, coding and debugging ability of participants. Prizes worth: Rs 10,000/-

Blind Coding

– Code a simple program without looking at your screen. Prizes worth: Rs 3,500/-
Consists of 5 popular gaming events among engineering students. Prizes worth: Rs 44,500/-

Counter Strike 1.6

Need For Speed Most Wanted

Fifa 2014

Clash Royale

Mini Militia

Think you know it?

Consists of 3 quizzes that will test different fields of knowledge. Prizes worth: Rs 22,000/-

Trivium

Mathionaire

Sports

Also, consists of Cognitive skill competitions. Prizes worth: Rs 10,000/-

Creativity

(Prizes worth: Rs 9,000/-)

Comic Con

– Comic designing

Mind Map

– Presentation on paper

Photography Contest

– Theme 'Connect'

Sports/Outdoor

(Prizes worth: Rs 26,000/-)

Cricket Pro

– 5 a side with one over each

Futsal

– 5 a side mini football

Find the Balance

– A slow bike race

Luck Favours You? (Prizes worth: Rs 12,000/-)

Treasure Hunt
Minute to Win It
Registration for all events have officially been opened.
For further details:
Check out www.technival.org/events
Call Eesahaan Vernekar: (+91) 967 368 3136