Become a Campus Ambassador at Technival 2016!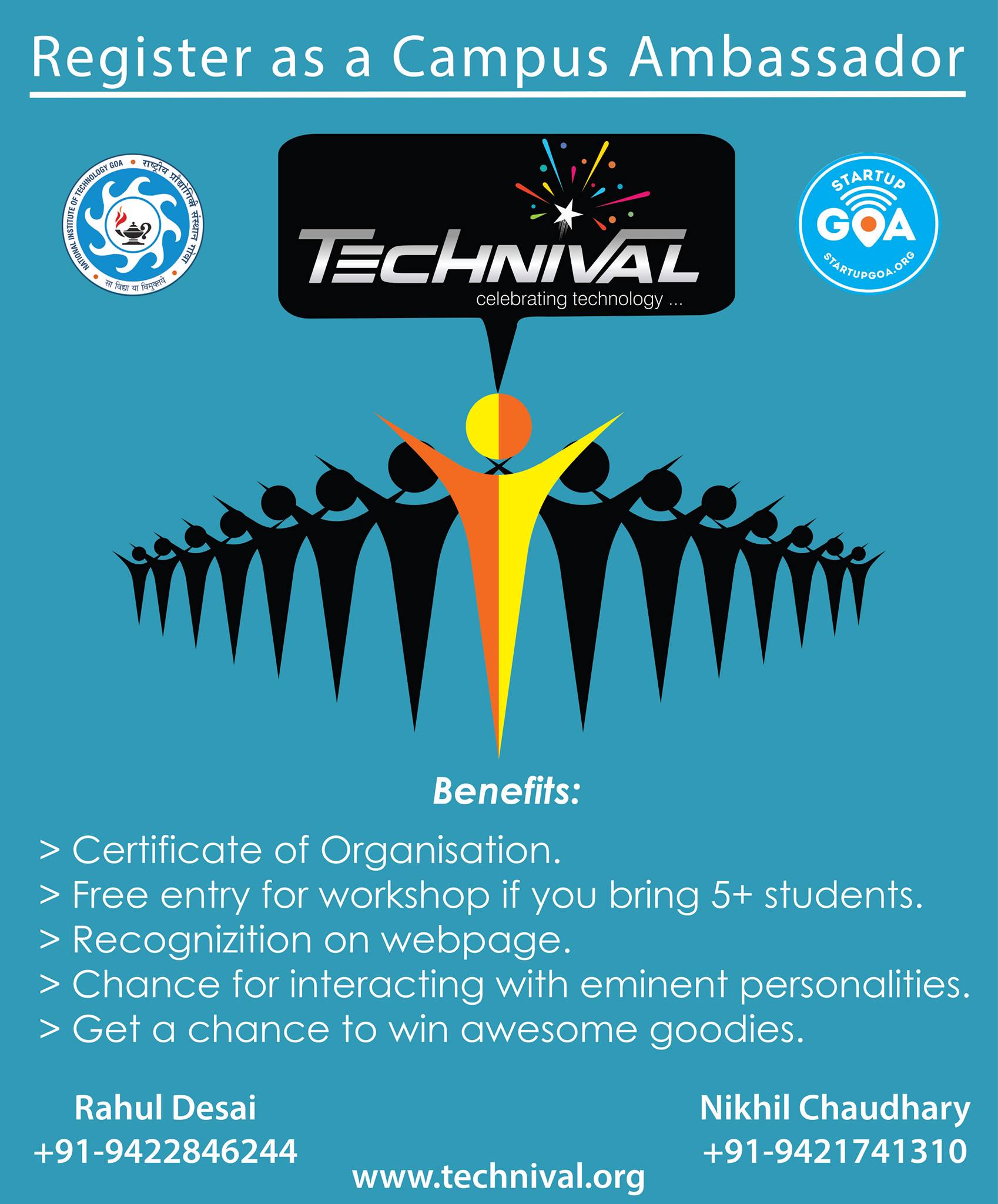 NIT-Goa will be celebrating their annual technical festival 'Technival 2016', a 3-day event of fun, knowledge seeking and fierce competition for students all over India from the 21st of October 2016 to the 23rd of October at their campus. The event provides the youth of India with a platform to display their practical skills and knowledge at a national level to foster an arena where new innovations and inventions are born. Technival'16 will comprise various technical and non-technical events as well as workshops and guest lectures from renowned speakers and exhibitions set to attract large audiences.
Technival is looking for campus ambassadors from colleges all over India to represent their college at Technival, as they do every year, with the main role to aid in publicity of the event as well as help in coordination.
The duties of the ambassadors are three fold;
Publicity

– Displaying of the posters of Technival'16 within 3 days of receiving them on college bulletins and notice boards .

Coordination

– Coordinating events or workshops to be held at your colleges, this would be subject to whether it panned out and took place at your college

Social Media

– Sharing the links of the event and publicising the events of Technival on various social media and print media. Just like us!
Being an ambassador is not just all work, there are many benefits attached to this title such as;
You will be presented with a certificate of organisation from Technival'16, which can enhance your portfolio, for your valuable contribution to the event.

You will be provided with a bunch of opportunities to interact with eminent personalities at Technival'16

You will receive free entry to one of the workshops to those campus ambassadors who bring 5+ students with them for the event.
The best performing campus ambassadors will have their names put up on our FB page

You would also get some amazing work exposure with thousands of students throughout the country.

And there are a bunch of Technival'16 goodies to be won
To sign up to represent your college as a campus ambassador, you can click this registration link http://www.technival.org/src/campus.html#4
For further details, you can visit the facebook page or contact;
Rahul Desai – +91 9422846244
Nikhil Choudhary – +91 9421741310