Coalescence Finally Taking Off this Weekend
4 September, 2016 @ 11:00 am

-

5 September, 2016 @ 6:00 pm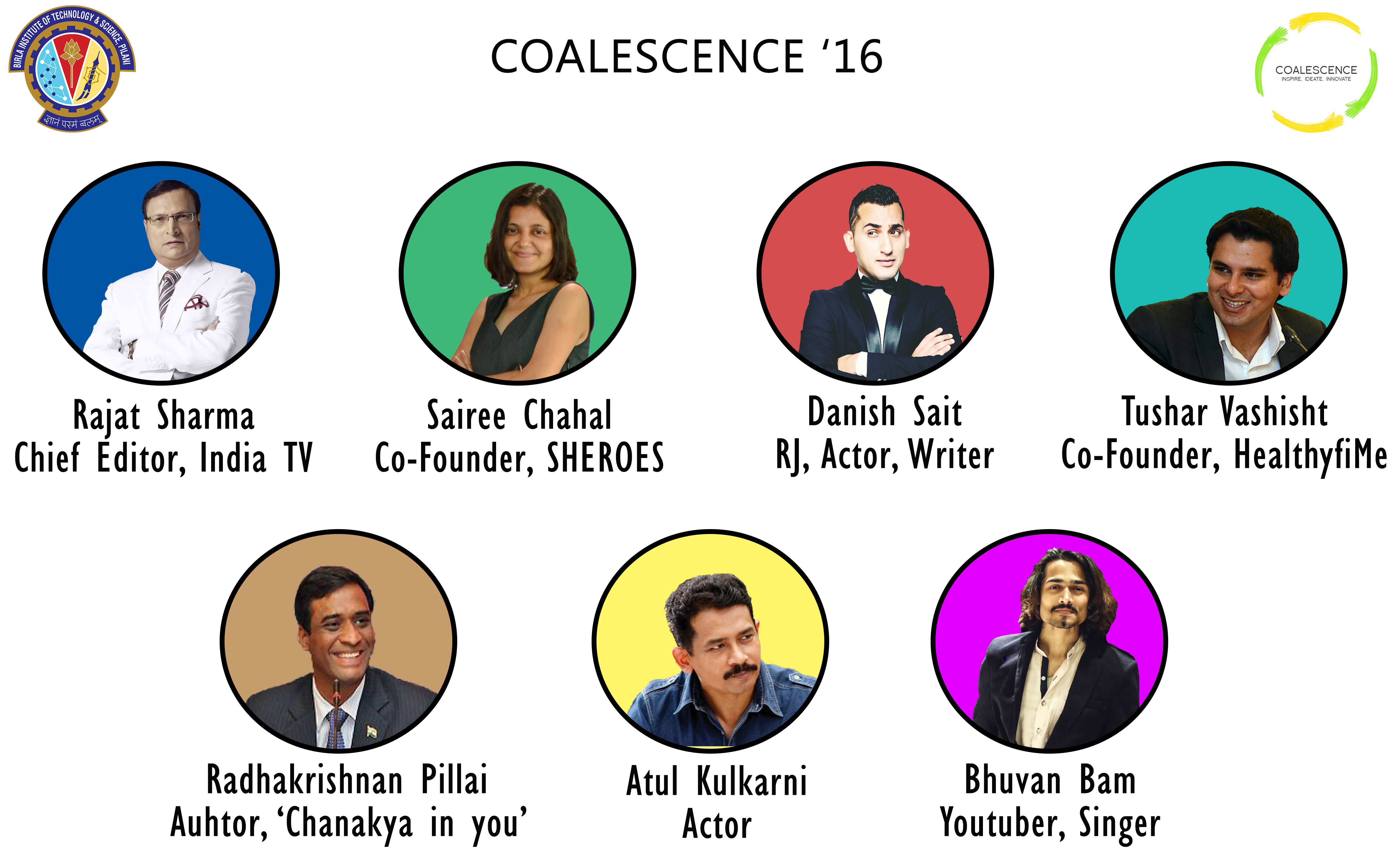 The country is slowly adapting to the start-up culture, and what a welcome change it has been! To ensure that this drive towards a great change gets carried on, BITS Pilani K.K. Birla Goa campus announces Coalescence'16: Going Zero to One, the annual e-summit of the institution. The event will be held on the 4th and 5th of September. Targeted at providing a platform for the start-up enthusiasts from the country to display their skills and share their ideas, Coalescence'16 will leave no stone unturned to ensure that it lives up to the expectations of the attendees. Some of the key events of this edition are:
ACT, the Conference
ACT is Coalescence's flagship event, which hosts remarkable entrepreneurs and speakers from all over the country. The speakers have inspiring stories to tell about their journey in the start-up world, hence conveying a strong message of "daring to act". This year, the conference will host eminent personalities like:
Rajat Sharma: Chairman and Editor-in-Chief, India T.V.
Sairee Chahal: Founder, CEO at Sheroes
Danish Sait: Indian Radio Host, TV presenter, Actor and Writer
Tushar Vashisht: Co-Founder and CEO of HealthifyMe
Atul Kulkarni: Actor
Radhakrishnan Pillai: Director, Chanakya Institute of Public Leadership, University of Mumbai
Bhuvan Bam: Singer, Youtuber, known for B.B. ki Vines
Workshops
Workshops at Coalescence are targeted at catering to of all the attendees. With able mentors from well-known firms, the workshops will ensure that every attendee has an enriching experience while enhancing his or her start-up skills. This edition is all set to host three major workshops, namely
Branding and Marketing
How to build an app in 4 mins, in association with Thappad.in which is which is an online platform that is thought –provoking, opinion generating and positively democratic
The art of Bootstrapping
For further details, please visit our website www.coalescence.in
Start-up Expo
Start-up expo is a start-up exhibition that acts as a bridge between a great product and its potential investors and customers. It provides the enthusiastic individuals with an opportunity to associate with the trending start-ups of the country. It serves as a meeting ground for talent, with the target to tap the potential of every great idea that is put forward. The start-ups also get to recruit talented individuals who are willing to ideate and make things happen. The start-ups are also given the opportunity to be funded by experts from various industries.
The participating startups in the expo are AthleticGo, CadShakes, Medifee, Nativefolks and Pawfeet. Medifee is a team of doctors, medical professionals, and technocrats, passionate about providing affordable and transparent healthcare to people. 
Panel Discussion
The panel discussion will be a very interactive discussion with eminent personalities of the start-up ecosystem like Mr. Ajeet Khurana (Angel Investor), Mr. Nikhil Kamath (Co-Founder, Zerodha), Mr. Nitish Singh (CFO, Jugnoo) and Mr. Ashwin Srivastava (CEO, Iden Ventures). The theme for the discussion is going to be the "Start-up Bubble in India". It will surely be a great exchange of ideas among leaders of today and the leaders of tomorrow.
Novatia
After sorting out 200+ entries, 25 selected teams will be pitching their business plans in front of investors. These 25 teams were provided mentorship from associations like Kae Capital, TiE Mumbai, Mica Incubator, 180DC  and Indian Angel Network. The panel of judges consists of professionals from Ide-in Ventures, Venture Studio, Forum Synergies , IBM Global Entrepreneur, and 91Springboard.
Schedule
Day 1: September 4, 2016
1) A workshop on Branding and Marketing- 11:00 A.M. to 12:30 P.M.
2) Keynote session with Mr. Rajat Sharma – 3:00 P.M. to 4 P.M.
3) A panel discussion of the start-up bubble in India- 4:00-5:00 P.M.
Day 2: September 5, 2016
1) A workshop on Building an App in less than 4 minutes – 10:00 to 11:30 A.M.
2) A workshop on The Art of Bootstrapping – 11:30 A.M. to 1:00 P.M.
3) ACT- The Conference- 2:00 P.M. onward
For registering, please visit www.coalescence.in.
For further details, contact:
Kalyan Kumar Dutta                                                                       Arpit Mathur
07083509251                                                                                    07057902356