Stimulating Big Business Minds at an International Entrepreneurship Conference in Goa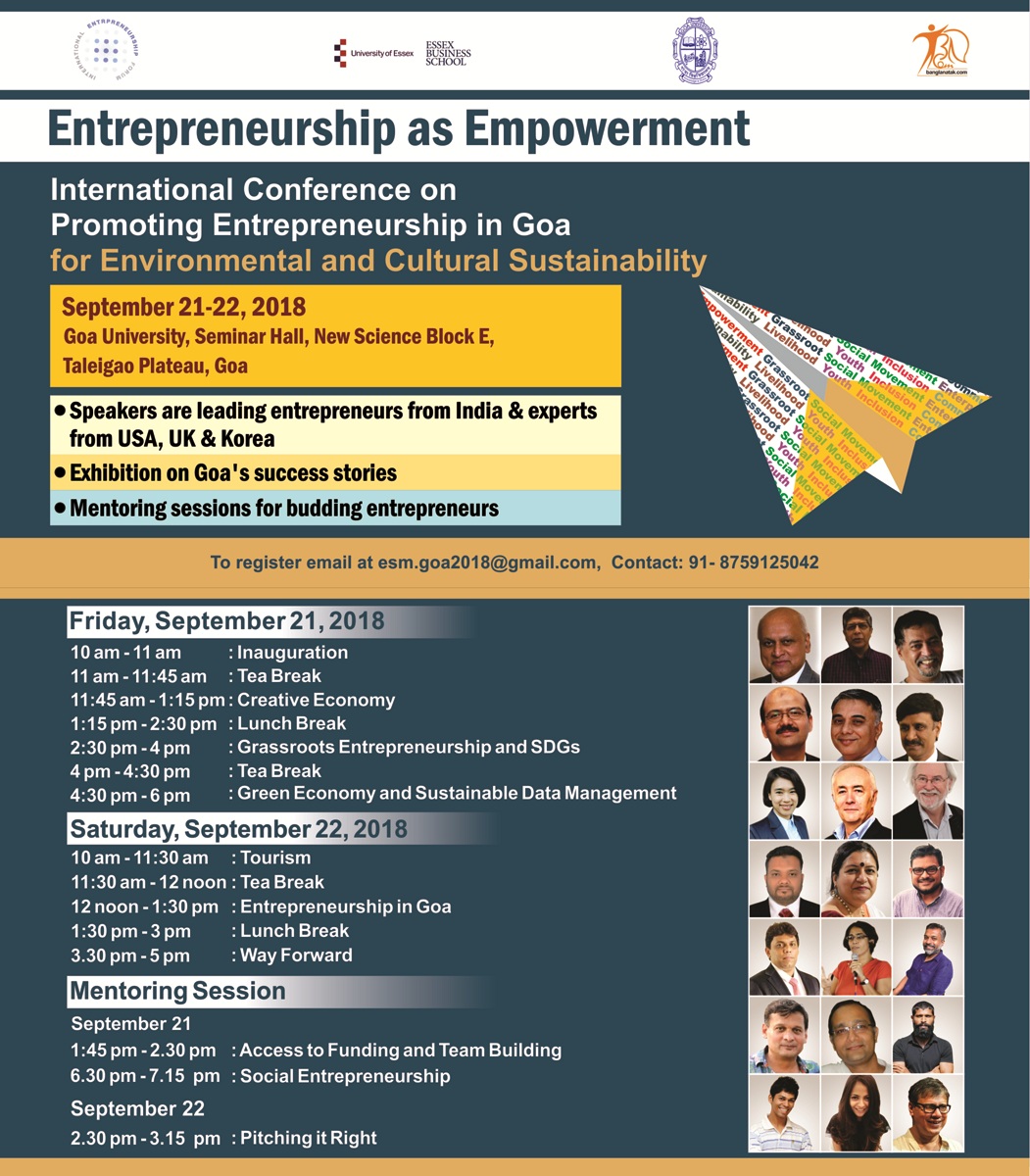 Whether it is the start-up revolution or small and large scale industries that are blooming across the state, it goes without saying that the business scene in Goa is certainly picking up the pace. With diversity opening up new avenues and competition reaching new heights, the new generation of entrepreneurs is expected to put in a lot of thought before going ahead with their visions. To make things easier, you now have a one of a kind opportunity knocking at your door.
Banglanatak dot com brings to all prospective entrepreneurs an international conference with some of the most notable speakers sharing the dais. Scheduled to be held at the Goa University, Seminar Hall, New Science Block, Taleigao Plateau, Goa, this conference will be organised on the 21st and 22nd of September from 10.00 am to 6.00 pm.
Apart from Goa University and the International Entrepreneurship Forum, this conference is being organised in partnership with The Venture Academy and Essex Business School, University of Essex, UK.
An Expert Panel to set the tone
The focus of this conference will not just be on business models and strategies for success but will look at cultural and environmental sustainability in the promotion of entrepreneurship, which is the need of the hour. An introductory session will be followed by a panel discussion led by some eminent names in the business industry.
Day one of the two-day programme will include a focussed mentoring session that will cover topics like 'Ideas to product development,' 'Social entrepreneurship,' 'Pitching it right,' 'Access to funding,' 'Access to appropriate technology' and more. The seminar will host sector innovators who will identify potential gaps and opportunities in the local entrepreneurship strategies and ecosystem and will provide strategies for action.
Apart from leading entrepreneurs from India, participants will get the chance to interact and have a participatory discussion with experts from the USA, Korea and the UK.
Who can attend?
This conference is open to students, teachers as well as scholars from any recognised institution or university, be it national or international. Early stage entrepreneurs, budding entrepreneurs as well as VC funding organisations are welcome to attend the conference.  
So don't miss this opportunity to interact with some well-known names in the industry and imbibe some strategies and solutions that will help take your ideas forward. Those interested in attending the seminar may register themselves at esm.goa2018@gmail.com.