Interview with Transerve Technologies' Amarsh Chaturvedi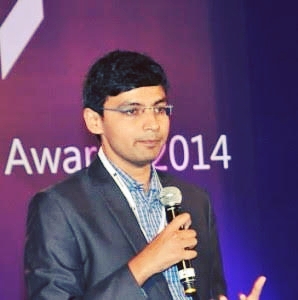 Transerve Technologies, a young start-up in the domain of hyperlocal information systems and geospatial technology, is literally charting its way to success. Occupying a character-neutral room at the Centre for Incubation and Business Acceleration, a handful of young computer engineers are hard at work updating and redesigning the company's product offerings and decision making tools that use Geospatial technology. Startup Goa decided to sit down for a chat with the co-founder and brain behind the company, Amarsh Chaturvedi.
Tell us a bit about yourself?
I am a 30-year old innovator. I enjoy looking for new problems to solve and finding efficient solutions.
How did Transerve Technologies come about?
Ashwani Rawat (co-founder) and I were at IIT-Kanpur when a successful stint as interns at Defence Research and Development Organization helped us see the potential that geospatial mapping had to offer. We decided to use digital mapping technology to aid clients to make informed decisions through the use of location-based data analytics or Geomatics.
From Kanpur to Goa. How did that happen?
It was a conscious decision. We were looking for a small place where organisations especially government bodies are accessible. A lucky beneficiary of this has been the Corporation of the City of Panaji, where our solutions have helped CCP identify illegal buildings in the city area and penalize them.
Can you please give us an idea of your company's products
The company creates smart web/desktop/mobile maps to help customers manage their assets such as land, estate, water supply lines, tanks, treatment plants, sewage lines, manholes, electrical networks, transformers, substations, etc. We also help create municipal tax solutions to help municipal bodies identify defaulters and perform analytics. It also help customers improve the speed and accuracy of their engineering surveys.
Has the journey been exciting?
Since starting in 2009, we have come a long way and have provided solutions to formidable clients such as Defence Research and Development Organization (DRDO), the Goa government's Public Works Department (PWD) and Forest Department, Mormugao Port Trust, various municipal councils in Uttar Pradesh, Maharashtra and Tamil Nadu as well as international clients like South Korean firm CBRE Korea Ltd.
As the co-founder of a startup, what is the most exciting aspect of a startup for you?
Since graduating from The IIT Kanpur  and as a startup entrepreneur I have worn various hats right from sales, to talent management and leadership to financial strategy all at once. This is a massive learning curve and definitely exciting. We also won the ET Power of Ideas in 2012.